20' ISO Container Adapter Kits - Hook Lifts - Detachable
Series ContiLift ICAK-20-D
Enhanced Container Handling Units (E-CHU) for military & civil purposes

for the handling of 20' ISO Containers & standard hook lift bins with 1 Hook Lift

Detachable/for 20' ISO Containers/for retrofitting of standard hook lifts
Range: From 18 tons up to 40 tons lifting capacity
Suitable for Sliding & Articulated Hook Lifts/2 axles/3 axles/4 axles & 5 axles Truck Chassis & Semi-Trailers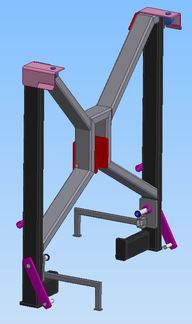 Now, available for Retrofitting:

Detachable EOS-ENVIRO 20' Hook Lift Adapter Kit

ContiLift
ICAK-20-D


> Lifting, Transport & Tilting of 20' ISO Containers with hook lift devices ! <


Make your standard Hook Lift more versatile !


Due to the ingeniously simple - but versatile - layout of this enhanced 20' ISO Container Handling Unit (E-CHU), the detachable EOS-ENVIRO Hook Lift Adapter Kit ContiLift ICAK-20-D can be easily retrofitted and integrated - as an exceedingly cost-effective accessory - to your existing, articulated & sliding hook lift bodies of all commonly used brands with a lifting capacity from 18 tons up to 40 tons.

To operate your standard hook lift device with military & civil 20' ISO Containers 1 C & 1 CC, the previously detached Adapter/Spreader is just lifted up with the hook arm from the ground etc. and moved to the frontal side of the ISO Container. The locking pins - at the upper edges of the adapter - are automatically plugged in the upper casting corners of the ISO Container. Only the lower Adapter Lockings of this Container Handling System have to be manually connected with the sea container's lower casting corners by the driver. Finally, the 20' ISO Container can be lifted up onto the truck by the hook lift arm within approx. 30 - 40 seconds.

Therefore, no further hydraulic and/or pneumatic couplings etc. have to be connected !

In order to detach the Adapter, the hook arm simply put the 20' Spreader down onto the ground, where the Spreader is kept in an upright position by using the 2 foldable standing legs. After 30 - 45 seconds the basic hook lift device is fit again for the handling of standard bins, flat racks, platforms etc. by having the full loading capacity available for the payload !

Four integrated Twist Locks guarantee always safety during transport of 20' ISO Containers.

The durable, Foldable Rear Roller Bearings ease the loading/unloading during horizontal movement/lifting and ensure quieter and smoother operations as well as an significant increase of the system's life–span.

Due to the usage of wear resistant & high-tensile steel in terms of the enhanced steel construction and the use of cast steel parts in places vulnerable to high strain, durability and system life are also improved resulting an ultimately profit for your company.

All lifting and tilting operations are only carried out by usage of the Hook Lift's Control unit (Pneumatic control, wired or wireless remote control) and therefore, no additional controls - such as actuators, levers etc. - are required. This transport logistics system - with a significantly cost-effective price - will boost your productivity while giving you the flexibility you need to customize your hook lift for usage in a wide range of applications.

Supplied - as a Mounting Kit for an easy Retrofitting - with spreader/adapter frame for 20' ISO Containers, foldable rear roller bearings & twist locks, the detachable EOS-ENVIRO Hook Lift Adapter Kit Series ContiLift ICAK-20-D is Fit for Purpose !

---
Watch, how it works:

Options and customized appliances are available on request. We retain the right of technical alterations without prior notice.