20' ISO Container Handling Units - ContiLift CHU-20/25

Case Study: For an easy embarkation of 20' ISO Containers on a cargo ferry
Range: From 18 tons up to 35 tons lifting capacity for payload with a length of max. 6,1 mtrs.
Suitable for 3 axles/4 axles Semi-Trailer Chassis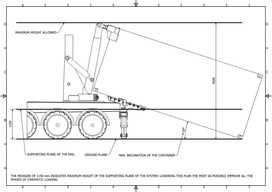 The EOS-ENVIRO 20' ISO Container Handling Unit ContiLift CHU-20/25 is the latest member of the extraordinary Series CHU and has been recently developed - as a custom-engineered project - for an easy loading & unloading of full and empty 20' ISO Containers on a cargo ferry - in consideration of the loading deck's limited clearance of max. 4,500 mm - and for the fast transport from and to the quay. In order to achieve the max. allowed lifting angle of 18°, the ContiLift CHU-20/25 Modules are considered to be installed onto a low level semi-trailer with a max. height of 1,150 mm.


By lowering the rotating lift arm the integrated 20' ISO Spreader is automatically forced to connect safely with the ISO Container's corner castings. Due to the fast, hydraulic functionality of the rotating arm and its sliding cart, very short and safe lifting cycles of only 45 seconds/per 20' ISO Container are achieved, which increase the handling capacity significantly and ensure a departure of the cargo ferry in time.

---

Configurate your personal EOS-ENVIRO ISO CHU now:
Options and customized appliances are available on request. We retain the right of technical alterations without prior notice.