40' Heavy Duty Hook Lifts - Series ContiLift TBS-40 -
Semi-Trailer Chassis 130 PSL/Technical Specification

for Oversized Bins/Flat Racks/Trays & Rigs
Range: From 27,5 tons up to 37 tons/for payload with a length of max. 13,2 mtrs.
3 axles Semi-Trailer Chassis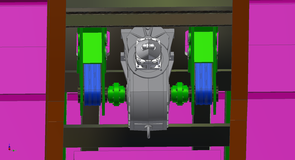 * Semi-Trailer Chassis Paganinicar 130 PSL *> Suitable for 40' Heavy Duty Hook Lift ContiLift TBS-40 <Technical Specification (Standard Versions):
Chassis:
3 axles with air suspension
Reinforced frame (1,300 mm) with double T section
Axles and suspension: ROR O BPW
Braking system: ABS-EBS
2" fifth wheel
2-speed landing gear
6 tires 385/65 R 22.5
Rear bumper in stainless steel
Lights "Aspöck"
Dimensions & Weights:
Maximum length: 13,200 mm (on request: 13,690 mm/Model 137 PSL)
Maximum width: 2,532 mm
Tare weight: 6,000 kgs
Payload with 2-axles tractor: 27,500 kgs
Payload with 3-axles tractor: 37,000 kgs
Coating/Painting:
2 coats of epoxy bi-component/2 coats of catalyzed gray frame
Coat of protective wax - in case of sea transport
Optional Accessories:
Auxiliary diesel engine 45 HP
(Complete with pump, tank for oil, fuel filters and starter panel with warning lights - to be installed in the center of the frame by resting on silent-block supports)
General Information:
Homologation Documents/EU Type Approval
Warranty: 1 year on structural parts
Installation, Operation & Maintenance Manual in English language/CE Certificate acc. to 2006/42/CE
Assembled in Italy/EU for EOS-ENVIRO by our contractual manufacturer


We retain the right of technical alterations without prior notice.
Status: December 2015
---
Configurate your personal EOS-ENVIRO Hook Lift now:
Options and customized appliances are available on request. We retain the right of technical alterations without prior notice.