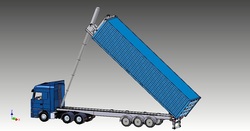 The Team of England EOS Ltd. is very proud to annouce, that the design of the first & only Hook Lift for 20'/40' & 45' ISO-Containers and Oversized Bins/Flat Racks has been recently finished and that the tremendous unit is now ready for promoting and distribution.
Now, for the first time, the easy handling of 20'/40'/45' ISO-Containers and of Oversized Bins with a length of max. 12,300 mm is possible with a Hook Lift ! Available with lifting capacities from 30 tons up to tremendous 80 tons (!) the TBS 40 will become a powerful resource for your operations. With a low lifting angle of only 16° and a tilting angle of 45°, the EOS-ENVIRO Hook Lift Series TBS ensures a safe & economic handling of all payloads !

If you're interested in reading more about this extraordinary Hook Lift, find out more and go to Hook Lift - Series TBS and I'll be happy to get your comments !