Agricultural Hook Lift Trailers - Series R

Sliding & Articulated Hydraulic Arm (Standard Versions)
Range: From 7 ton up to 30 tons lifting capacity
Supplied with 2 axles or 3 axles Trailers = Fit for Purpose !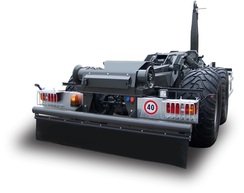 The EOS-ENVIRO Hook Lift Series R - supplied by being mounted onto our high-tensile trailers with 2 or 3 axles, which are designed for tough, agricultural purposes - is truly a superior performer, which convinces with robustness, durability & ease of operation. The versatility and reliability of the R-Range with lifting capacities between 7 and 30 tons has been confirmed by satisfied customers worldwide during the last years.

Consequent use of cast steel parts in places vulnerable to high strain, the permanently enhanced steel construction (in terms of geometrics) and the excellently working hydraulic system ensure a long life-span and a minimum of required maintenance - ultimately profit for your business.

Low tare weights with a maximum of payload, the efficient, trouble-free operation and the well known, solid design, make the R-Range - supplied with trailers as one versatile unit = fit for purpose - to an invaluable asset and reliable partner for your company's daily operations.

Equipped with the standard, Wired Remote Control or with the optionally available Radio Remote Control, the R-Series enables a comfortable and safe operation of the unit from the driver's cab or from the ground. Of course, the R-Range - as all other EOS-ENVIRO Hook Lift Ranges - follows the same design principles and is compatible with modern PLC and CAN-bus systems.

Operation Cycles of approx. 30 seconds - achieved by the optionally available Double Speed Valve and Fast Tipping Cylinder - and the outstanding overall performance increase your daily benefits, ease your hard work significantly and will let you certainly become a "Follower" of the EOS-ENVIRO Hook Lift Series R with Agricultural Trailer !

---
Design acc. to DIN, CHEM (TS 13 & 17) & ADRs (3rd Edition) Standards also available !
Configurate your personal EOS-ENVIRO Hook Lift now:
Options and customized appliances are available on request. We retain the right of technical alterations without prior notice.