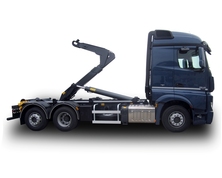 The modern, Articulated Hook Lift Range SCK comes with low installation weights and various frame lengths, which fit to all commonly used truck chassis. Due to the enormous strength of the resistant steel construction, the usage of cast steel components in places vulnerable to high strain and to the professional production methods, the Articulated SCK Series can demonstrate its incredible durability and reliability day by day.

Due to the two points articulation of the vertical hook post, a lower lifting angle of approx. of 23° is achieved and the bins are smoothly pushed along during horizontal movement by the hook arm.

Low maintenance expenditures and the short lifting cycles of approx. 30 seconds will boost your productivity and benefits. All units are supplied with the standard Wired Remote Control, which can be easily operated
by the driver inside or outside the driver's cab. Of course, the EOS-ENVIRO Hook Lift Range SCK is optionally available with Radio Remote Control and other requested appliances, which increase the versatility of the units !

To be ready for the future's challenges, the state-of-the-art, the Articulated Hook Lift Series SCK is compatible with PLC and CAN-bus systems, which are also supplied by us to ensure the usage of a completely perfect solution for your operations.

---
Design acc. to DIN, CHEM (TS 13 & 17), STANAG 2413 & ADRs (3rd Edition) Standards also available !

Configurate your personal EOS-ENVIRO Hook Lift now:
Options and customized appliances are available on request. We retain the right of technical alterations without prior notice.