Civil Defence Hook Lifts

Standard & Customised Versions
Range: From 1 ton up to 40 tons lifting capacity

Suitable for 2 axles/3 axles/4 axles/5 axles Truck Chassis, Trailers & Semi-Trailers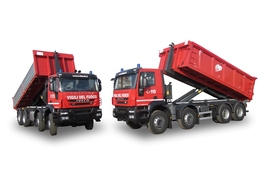 The long time proven and truly efficient EOS-ENVIRO Hook Lifts are adaptable for the wide range of daily tasks of Civil Defences (e.g. Fire Brigades) and can help you and your Team to respond adequately and quickly to emergency cases !

The adapted, reliable EOS-ENVIRO Hook Lifts , which deliver always an outstanding performance, are coming in a range from 1 ton up to 40 tons lifting capacity as standardized or custom-made versions with articulated, sliding or double extensible, hydraulically operated hook arm as well as with various frame lengths, which fit onto all commonly used truck chassis with 2 up to 5 axles.

Due to their trouble-free operation, the robust steel construction and their high-performance hydraulic components, you can be sure that EOS-ENVIRO Hook Lifts are always "ready for action" to bring your urgently needed equipment (e.g. Breathing Masks, Water Hoses, Ventilators etc.) to the locations in time !

Easily to be mounted and equipped with a tremendous robustness, EOS-ENVIRO Hook Lifts will be a longtime supporter of your work.....

Design acc. to DIN, CHEM (TS 13 & 17), STANAG 2413 & ADRs (3rd Edition) Standards also available !

---
Configurate your personal EOS-ENVIRO Hook Lift now:
Options and customized appliances are available on request. We retain the right of technical alterations without prior notice.