Double Extensible/Telescopic Hook Lifts -
Series KT & KT-FBS

Sliding & Articulated Hydraulic Arms
Standard & Customised Versions

Range: From 20 tons up to 40 tons lifting capacity
Suitable for 3 axles/4 axles & 5 axles Truck Chassis, Trailers & Semi-Trailers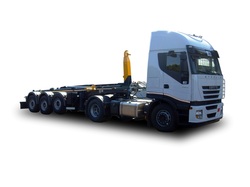 Double Extensible/Telescopic Hook Lifts are the perfect utilities to handle payloads (such as bins, trays, tank containers etc.), where a length of max. 7,500 mm and lifting capacities between 20 tons and 40 tons are required.

To ensure a long durability and safe operation, all components of these hook lift devices are produced by using wear resistant, high- tensile steel and - in order to enable the smooth handling of longer payloads than usually - equipped with a Double Extensible, Sliding (KT-Range) or Articulated (KT-FBS-Range) hook post.

Optionally, the vertical hook arm could be also designed to be hydraulically adjustable in regard to the height (from 1,310 mm up to 1,610 mm) to enable the uncomplicated handling of various bins and trays.

Preferably designed for the usage on semi-trailers the Telescopic/Double Extensible Hook Lifts can be also installed onto 4 axles or 5 axles truck chassis with a min G.V.W. of 26 tons without any problems.

The low tare weight of the EOS-ENVIRO Double Extensible/Telescopic Hook Lift Range with high and longer capacities makes it to a highly efficient and optimal resource of your company !

---
Design acc. to DIN, CHEM (TS 17), STANAG 2413 & ADRs (3rd Edition) Standards also available !

Configurate your personal EOS-ENVIRO Hook Lift now:
Options and customized appliances are available on request. We retain the right of technical alterations without prior notice.