Military Defence Hook Lifts/Hook Loaders
Enhanced Container Handling Units (E-CHU)

Pneumatic/Detachable & Hydraulic 20' ISO Container Spreader Kit -
Series ContiLift ICAK-20
Standard & Customised Versions

Range: From 1 ton up to 40 tons lifting capacity
Suitable for 2 axles/3 axles/4 axles/5 axles & 6 axles Truck Chassis, Trailers & Semi-Trailers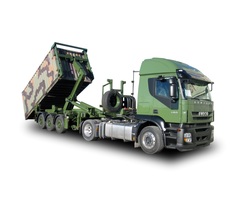 All Multi-Functional EOS-ENVIRO Hook Lift Modules with 20' Adapter Kit ContiLift ICAK-20 Series are suitable as Enhanced Container Handling Units (E-CHU) within the Palletized Load System (PLS) or Demountable Rack Offload and Pickup System (DROPS) for the extensive range of tasks, which daily occur for Military Logistics Units !

The adapted EOS-ENVIRO Hook Lifts come in a range from 1 ton up to 40 tons lifting capacity as standardized or custom-made versions with articulated, sliding or double extensible/telescopic, hydraulically operated hook arm as well as with various frame lengths, which fit onto all commonly used truck chassis, trailers and semi-trailers.

Developed also for the combined transport & handling of all kinds of Military Hook Lift Flat Racks (Types M1077/M1077A1, M3/M3A1 & M1 ISO Compatible Flat Rack) and of 10'/15' & 20' ISO Containers as well with one, versatile unit, the sliding EOS-ENVIRO Hook Lift Range SC with ContiLift ICAK-20 Adapter is really worth to be considered as a cost-effective alternative !

With lifting capacities of 18 tons, 26 tons, 30 tons & 35 tons, made of wear resistant and high-tensile DOMEX- Steel, the SC-Range with pneumatically lifted or detachable ContiLift ICAK-20 20' Adapter/Spreader is also intended for tough Military Logistics Transports on rough terrain and can be fitted onto truck chassis and onto semi-trailers !

All components in places vulnerable to high strain are made of cast steel to ensure a longer durability during system life as well as a permanent operational capability.

Of course, the SC-Range with ContiLift ICAK-20 Adapter fulfills the requirements acc. to STANAG 2413 to handle and to transport Fuel Tank Containers, Water Tank Containers, D.R.O.P. Flat Racks/Trays/Platforms etc.

The additional ICAK-20 Adapter/Spreader as well as both, foldable Rear Roller Bearings ensure a safe and smooth handling of 20' ISO-Container, which are secured during transport with 4 integrated Twist Locks and by the sturdy hook lift arm with pneumatic hook locking by being lifted on or dropped off within 30 seconds !

Design acc. to DIN, CHEM (TS 13 & 17), STANAG 2413 & ADRs (3rd Edition) Standards also available !

---
Configurate your EOS-ENVIRO Hook Lift now:

Options and customized appliances are available on request. We retain the right of technical alterations without prior notice.