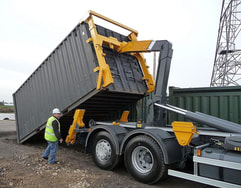 All custom-made & standard EOS-ENVIRO Hook Loaders are also available acc. to the British CHEM- Standard T.S. 13 & 17 in a range from 1 ton up to 40 tons lifting capacity as Sliding and Articulated versions. If you are in need of a longer Hook Loader for you operations, the Double Extensible/Telescopic version for bins with a length of max. 7,500 mm is your first choice.

The adapted CHEM-Standard versions are based on the proven ranges of the Articulated (SCK-Series), Sliding (SC-Series) and Double Extensible/Telescopic (KT-Series) Ranges, which have been produced since almost 40 years !

The robust and reliable EOS-ENVIRO Hook Loader Modules - acc. to CHEM- Standard T.S. 13 & 17 -, which are supplied as a fully fabricated modules, are suitable for all commonly used lorry chassis within the United Kingdom with 2 - 5 axles and can be easily fitted by a skilled workshop on site or - on request - in our contractual factories in Italy onto a provided lorry chassis.

Due to the sturdy construction of the steel structure, the cast steel components and the continuously enhanced hydraulic cylinders, EOS-ENVIRO Hook Loaders convince with a long life-span and low maintenance costs to profit ultimately your company !

As an option and to enhance the versatility, the Sliding Range/SC-Series (with lifting capacities from 18 tons up to 35 tons) can be equipped with the compact and versatile GMC-Adapter Set for the safe handling of 20' ISO-Containers (as shown on the picture/left side) and standard bins with one and the same unit.

---
Design acc. to DIN, CHEM (TS 13 & 17), STANAG 2413 & ADRs (3rd Edition) Standards also available !

Configurate your personal EOS-ENVIRO Hook Lift now:
Options and customized appliances are available on request. We retain the right of technical alterations without prior notice.