Rigid Skip Loaders - Series SLF/MB

Rigid/Fixed Hydraulic Arms (Standard Versions)


Range: From 5 tons up to 16 tons

lifting capacity


Suitable for 2 axles & 3 axles truck Chassis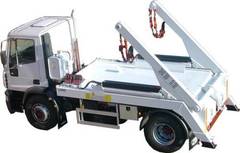 The durable EOS-ENVIRO Skip Loader Range SLF comes with fixed/rigid hydraulic booms for medium lifting capacities from 5 tons
up to 16 tons and is suitable to be fitted onto all commonly used truck chassis with 2 or 3 axles - due to the customized length of the loading deck/platform.
Equipped with 1, 2 or 3 pneumatically operated rear hooks as well as with four adjustable chains the skip bins are dumped safely by this economic model family, which will certainly exceed your expectations during daily operation !
Design acc. to DIN, CHEM (TS 16) & ADRs (3rd Edition) Standards also available !
Configurate your personal EOS-ENVIRO Skip Loader Module now:
Options and customized appliances are available on request. We retain the right of technical alterations without prior notice.