Telescopic Skip Loaders - Series SLE/MB

Telescopic Hydraulic Arms (Standard Versions)


Range: From 3,5 tons up to 25 tons

lifting capacity

Suitable for 2 axles/3 axles & 4 axles Truck Chassis
The optimal solution for transport tasks in narrow urban areas, where hook lifts have a problem to perform well !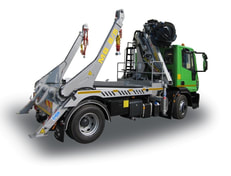 The telescopic EOS-ENVIRO Skip Loader Modules Series SLE ease the work to load and to unload skip bins with their hydraulically adjustable booms at narrow sites, where it is difficult to handle them with skip loaders - equipped with rigid/fixed arms - due to their limited and shorter outreach.
Our recently modified, Telescopic Range SLE comes with lifting capacities from 3,5 tons
up to 25 tons (retracted arms), hydraulically extendible rear stabilizers and is suitable to be fitted onto all commonly used truck chassis with 2, 3 or 4 axles - due to the custom-made loading deck/platform, which is reinforced by HARDOX !
Design acc. to DIN, CHEM (TS 16) & ADRs (3rd Edition) Standards also available !
Configurate your personal EOS-ENVIRO Skip Loader Module now:
Options and customized appliances are available on request. We retain the right of technical alterations without prior notice.