Tarp System - Electric/Hydraulic -
Series CT 626

Suitable for all commonly used truck/lorry chassis & hook lift bins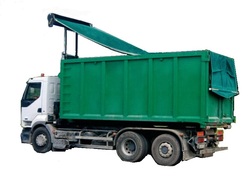 * EOS-ENVIRO TARP SYSTEM CT 626 *

The electric-hydraulic EOS-ENVIRO TARP SYSTEM CT 626 is a versatile tarpaulin system, which allows the simple and rational covering of hook lift bins of all heights.

The CT 626 System guarantees a complete containment of the load while driving as well as an effective protection against rain water, splash, wind or environmental pollution - caused by blowing off of loaded materials etc.

By using the electric-hydraulic Tarp System CT 626 the driver avoids significant fatigue, possible injuries and loss of time and is able to cover the load - by using the included Radio Remote Control - in less than 5 minutes by himself.

All operations can be performed by a single operator on the ground - without climbing onto the body and/or onto the loaded bin.

The structure of the covering consists of a casing, which accommodates the cylinder/spool with the PVC Net, - mounted onto a vertical, hydraulically operated post - and the vertically fixed main frame, which is firmly installed to the vehicle's chassis.

---
Options and customized appliances are available on request. We retain the right of technical alterations without prior notice.